"Egbon no be so" – Odumodublvck replies CDQ Olowo after claiming he doesn't like his music style, shares screenshots
Nigerian rapper, Tochukwu Gbubemi Ojogwu, popularly known as Odumodublvck, has replied his colleague, CDQ Olowo, after saying he doesn't like his music style. CDQ Olowo, whose real name is Sodiq Abubakar Yusuf, revealed during an interview in latest episode of 'Big Friday' show with Tacha, who asked him to name three artists he enjoyed. He had listed Bad Boy Timz, and Mahjeed.…CONTINUE READING
The reality star, Tacha asked if Odumodublvck was also an artist he enjoyed but he refused, claiming he liked his music deep and not just about the numbers. He expressed that the lyrics of Odumodu's songs lacked depth.
However, However, Odumodublvck saw the interview and quoted it immediately with the screenshot of his chat with CDQ on Instagram where the musician hailed his music style.
He wrote, "AH! Egbon No be so".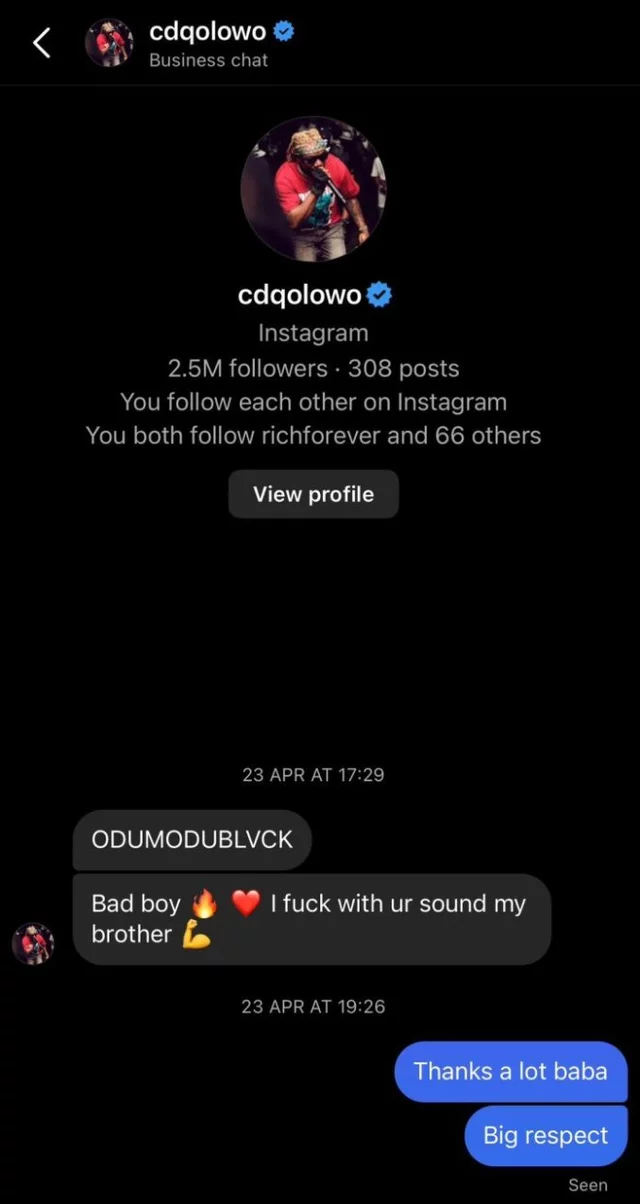 See the post below here:
https://twitter.com/Odumodublvck_/status/1724405514568609804?ref_src=twsrc%5Etfw%7Ctwcamp%5Etweetembed%7Ctwterm%5E1724405514568609804%7Ctwgr%5E61f5c32c55b12227aefc854677fab41d95a43c75%7Ctwcon%5Es1_c10&ref_url=https%3A%2F%2Fl.kphx.net%2Fs%3Fd%3D2339979467860820377extra%3DQ1RSWT1ORyZMTkc9ZW4tVVM%3Dg%3D9c6e378cb897af10214e0d05b593f56f
In reaction, netizens took to the comment section to express their opinions with a majority of them dragging CDQ.
One @sheddyking wrote: "One spirit dey this podcast thing, once mic dey their front like this na to dey lie or misyarn."
@mrsly_69 wrote: "I don't see anything contradicting. The fact that he acknowledged him and laid out he fucks with his sound! Does not take away the element of emptiness in OdumoduBlacks music. The music sits at the bottom entry for me."
@imperialpresh wrote: "Drag am for hin blockusNo leave am."
@Macy_macy∅ wrote: "That Guy Dey Act Like My Ex…Come To Public Say Bad About You Then Enter Dm And Start Sweet Talking."