A Nigerian father has reportedly rejected the huge sum of money his 19-year-old son won through virtual bet.
The lucky winner's brother who shared the story on Anonymous messaging platform, NGL, revealed that his sibling on N38 million, but their dad is insisting he returns it to Sporty Bet…..CONTINUE READING
According to him, the man vehemently opposes anything that has to do with gambing, which is why he refuses to allow his son keep the money since he knows its from sports betting.
This is causing problems in their home as his wife is angry at his decision to throw away a blessing especially as their house rent is due in a few months.
He wrote; "My 19yr old kid bro won 38M with 450 naira and my dad is insisting he returns the money to sporty because he doesn't support gambling despite explaining and showing him the slip, he's still insisting. Our rent is due in two months, now it has caused issues between him and mum. Kindly advice."
Meanwhile, a Nigerian lady identified as Maryam Lasisi has revealed that she lost interest in a man he was interested in dating due to his reaction to losing out in sports betting.
She recounted when she called him on phone and he was crying uncontrollably because his ticket cut and she felt irritated.
According to Maryam, though she does not see anything wrong with a man showing emotions, she felt the way he cried was too much for a man.
She explained that her impression of him changed because of that incident, so she dumped the idea of going into a relationship with him.
Maryam wrote; "I called him and he was crying because his bet cut. I'm all for men showing emotions but hearing "Omo I f**k up" while someone was crying his eyes out was very cringe. Omo, I couldn't look at him the same way again abeg.…..CONTINUE READING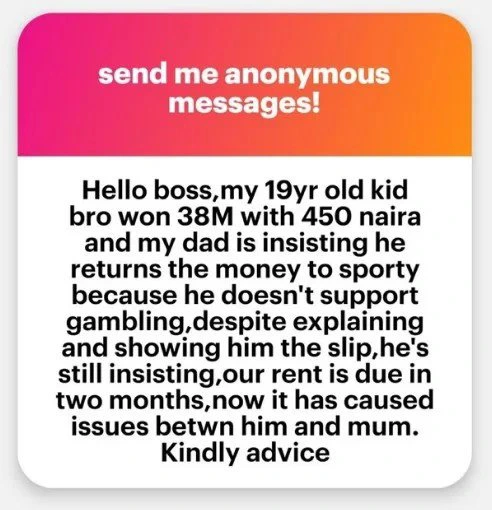 Twitter user, @Biodexraj commented; Maybe na 1 cut him 50 million naira 😒😒 why him no go cry
@IpubliciseGod; When e be say na just one game cut am and the game na the last game for the slip
@topetyez_; But it can be painful, u don't know if he was about to win jackpot. These things dey pain ooo.
@TweetInspector0; "My boyfriend does not show emotions " You Jam emotional men, you dey run. If he can't cry to you, who else should he cry to ? And you want to be your boo bestfriend abi but he should hide his emotions ? If the bet enter now, shey you no go chop inside ni ? Ok ohh…..CONTINUE READING