Congratulations are pouring in as the veteran actor Otolo prepares to celebrate 46 years on stage.
Congratulations are in order as veteran actor Mustapha Bakare, popularly known as Otolo, is poised to celebrate an impressive 46 years on stage. The veteran actor made this known via his social media platform, announcing his 46-year anniversary and using the medium to invite well-wishers and fans to grace the occasion.…CONTINUE READING
He also took out time to announce his forthcoming movie, "Mirror," which is said to be a blockbuster movie.
The veteran revealed that the launching of his movie and his 46-year-old on-stage anniversary celebration will commence on December 17th.
He wrote ,"I'm using this medium to invite you all to the celebration of my 46th years on stage and the launching of my New BLOCKBUSTER and coming attraction movie titled Mirror 🥵 .
The Launching and celebration will commence on the 17th of December 2023 this year ! You're all invited and further information about the event will be produced soon God bless you all Share the post".
His post below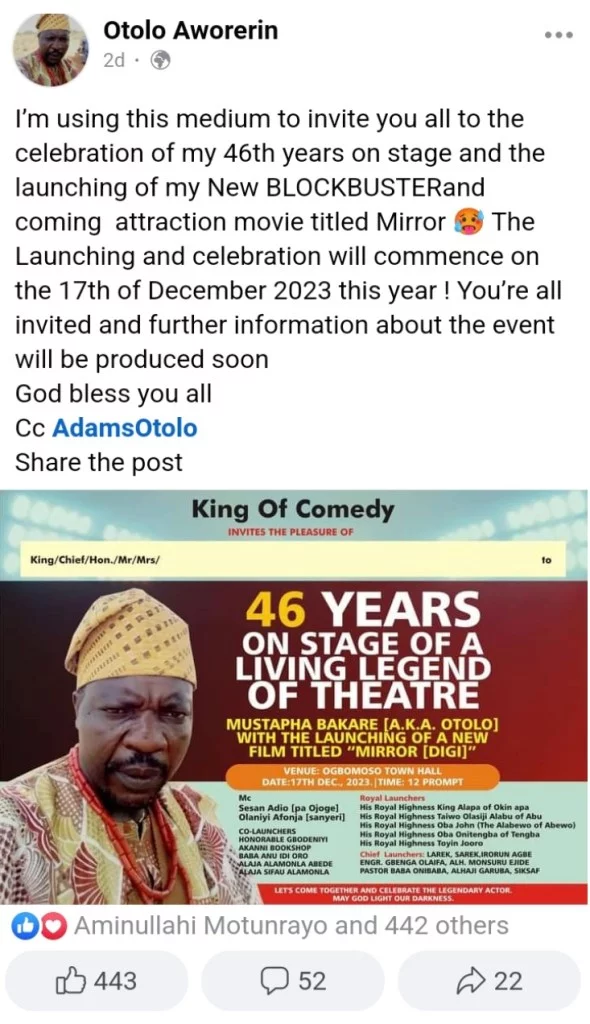 Naijalegit previously highlighted a touching display of appreciation and camaraderie as veteran actor Otolo and his wife celebrated Pastor Agbala Gabriel, the founder of Agbala Gabriel Apostolic Church, in honor of his upcoming 5th-year church anniversary.
Renowned for his devoted spiritual leadership and community outreach, Pastor Agbala Gabriel received a joyful tribute from veteran actor Otolo and his wife in the form of a musical video, expressing deep respect and affection for the pastor as he approached this significant milestone.
Otolo captioned the video, "Happy 5th-year anniversary to the ministry AGBALA Gabriel Foundation worldwide 29/10/2023 Sunday is the date! Agbala Gabriel Global PAGE I am really grateful and glad God Will help me and other people reward you abundantly! Don't miss anniversary, don't miss the blessing. God bless you all!"